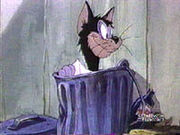 Butch Isacc Cat (or Alley Cat for short) is a Tom and Jerry character, he is a black and white alley cat that's being a beneficial or harmful living thing to the one and only Tom Cat.
Butch appears in Tom and Jerry.
He reappears in Tom and Jerry Works, with voice Maurice LaMarche providing his voice. A gag at the end of the intro sequence involves him trying to shield the show's logo with a sign reading "Starring Butch," only for a flaw to happen which removes the sign and, occasionally, harm Butch. He also reappears in Tom and Jerry: Pokemon Show where voiced by Eric Bauza and where he work refetee in cente Pokemon with cats friends Topsy, Lightning and Meathead.
Ad blocker interference detected!
Wikia is a free-to-use site that makes money from advertising. We have a modified experience for viewers using ad blockers

Wikia is not accessible if you've made further modifications. Remove the custom ad blocker rule(s) and the page will load as expected.