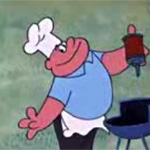 DeWitt Clinton Clobber (his full name) was conceived by producer Gene Deitch (Gerald McBoing-Boing, Ter'ble Thompson) as a somewhat more subtle character than what the studio had typically done before, such as Heckle and Jeckle He was a humanoid character, the superintendent of a run-down old New York apartment building, with all the callousness and bad attitude typical of the position. And yet, he was pretty soft and sensitive on the inside, at least when nobody was watching. He showed true tenderness, especially, for the decrepit, disreputable building he cared for, The Flamboyant Arms, and for his job of caring for it.
Deitch later said one of the factors inspiring Clint was a desire to find a new character for Doug Moye to voice. Moye, a cameraman for the studio, had a big, booming voice that had gotten laughs as The Terry Bear's Papa, and Deitch had decided to retire those characters. But funny as his voice had been in the earlier role, he wasn't a professional actor, and this one, Deitch decided, called for professional acting. Deitch brought in Allen Swift (Tooter Turtle, Simon Bar Sinister) for the role in the majority of Clint's cartoons.
Clint Clobber was strictly a product of the 1950s. The first of his seven cartoons, Clint Clobber's Cat, was released during July, 1957. The last, The Flamboyant Arms, came out during April, 1959.
He is Tom's owner in three of the thirteen Gene Deitch cartoons. He only appeared in 3 cartoons Down and Outing, High Steaks and Sorry Safari.
Appearance
Edit
He is bald and wears different hats.
Personality
Edit
He has very severe anger issues and is repeatedly violent towards Tom for his mistakes.
There is some debate as to whether this is the true Clint Clobber as the real Clint would never be an animal abuser, he was just a put-upon grouch.
He is, by far, the most evil of all Tom's owners.
Biography
Edit
He also often ties Tom up in order to keep him out of trouble. He often smiles maliciously after punishing Tom. When he doesn't have problems, he acts as a normal person and looks happy. He often sings tunes for himself when he is calm and happy.
He played different roles in the shorts he appeared in as a fisherman in Down and Outing, as a chef in High Steaks, and as a hunter in Sorry Safari.
After Sorry Safari, he was consequently dropped from the series. He was later replaced by a thin female owner on Buddies Thicker Than Water.