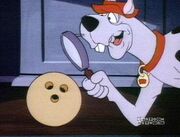 Scooby-Dum is Scooby-Doo's cousin.
Dum lives with Ma and Pa Skillett in the Hokeyfenokee Swamp of southern Georgia. Whenever Scooby-Doo and Scooby-Dum greet each other, Scooby-Doo greets, "Scooby-Dum" and Scooby-Dum says, "Scooby, doobie, doo." They then do a special handshake involving two high fives. Whenever he heard the word "Clue", he would invariably pull out a magnifying glass and, intoning the opening four notes of Beethoven's Fifth Symphony, chant "Dum dum dum DUM!"
Physical appearance
Edit
Scooby-Dum is grey Great Dane with spots, buck teeth.
Personality
Edit
He has a generally dim-witted demeanor.
Powers and abilities
Edit
Scooby-Dum's foolishness sometimes gives him greater access to toon physics than the others, allowing him to save the day when nothing else will work. For example, the gang was trapped in a locked tomb and the only way out was to reach the ceiling. They built a human tower, but it wasn't high enough. Scooby-Dum, at the bottom of the tower, simply pulled himself out of place and scrambled up to the top. His ignorance of the laws of gravity thus saved them all.