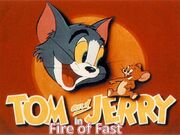 Playable Characters
Edit
All clothes from Tom and Jerry in War of the Whiskers are reutrn. New Characters gives as a clothes. If you want to see it, go here.
Blue (Default)
Green
Yellow
Red
Orange
Purple
Pink
Teal
Brown
Deep Blue
Gray
Jerry Mouse
Edit
Brown (Default)
Blue
Yellow
Green
Red
Orange
Purple
Pink
Cyan
White (debuted in The Missing Mouse)
Robot Cat
Edit
Monster Jerry
Edit
Lightning
Edit
GreenMouse
Edit
All stages are return. The Boxing Stage was renamed call "The Boxing Game".
All objects and items are return.